With the rapid development of economy, industrial and residential power demands largely increase and thus bring the high-load operation of power plants, substation, and transmission line. The influence on production and life will be huge once a node fails to work. In addition, the electric shock accidents of electricians frequently appear in the repair process. In order to strengthen the maintenance of power system and urgent repair capacity of fault, a better management method is needed to protect the safety of electriciansand improve the working efficiency.
2. System structure
The solution of TsingLink transmits the real-time audio of the power line inspection /repair sitesto the surveillance center, the leaders can know the real-time status of every line transmission point and timely correct the operation of electricians, meanwhile, the multi-party conferencecan be held to instruct repair works when meeting the major accidents.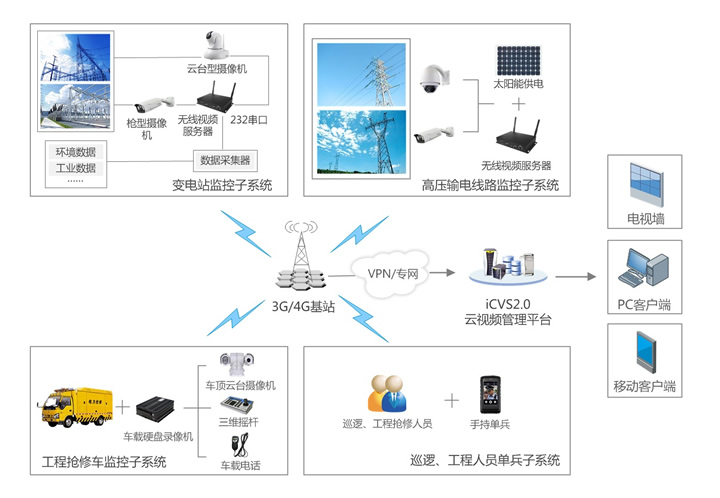 3. Surveillance subsystem of substation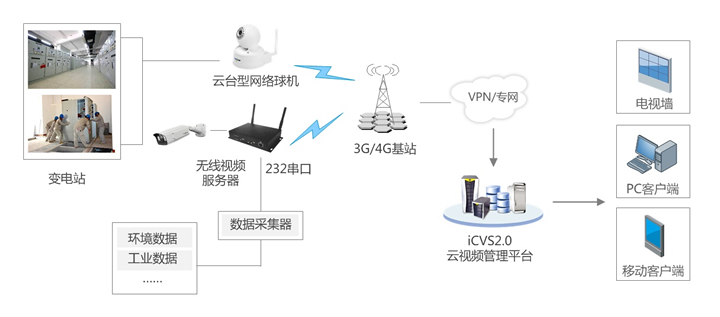 In order to promote power supply security and improve management efficiency, the function of substation surveillance subsystem is as follows:
Centralized monitoring
Real-time transmission of all substation images to realize "remote vision" function.
Accident alarm
Alarm for unpermitted person entry or device theft to protect property.
Emergency command
The remote center can know the real-time process and instruct the complex operation when device is checking or repairing.
Daily patrol management
The surveillance center can process daily patrol management of all substations, and save all videos and data to form log sheet.
Information completeness
Video surveillance system can simultaneously transmit multiple environmental information: environment temperature, humidity, voltage values, magnitude of current, and other real-time information.
Lightning protection
Add ground circuit and lightning protection system.
4. Surveillance subsystem of high-voltage transmission line

Reduce patrol workload
The distribution of transmission line is wide and the situation of surveillance region is complex, the passing areas are always difficult to patrol, such as railway, mountain, river, forest, building site, etc. The solution can reduce the patrol workload and timely find or correct some unsafety situations to avoid some damage accidents caused by external force.
Prevent line theft
The metal construction of most transmission line towers make them become the theft target, the monitoring video or snapshots can be used for investigation.
Prevent line icing
Transmission line icing is serious in winter and will cause circuit accidents. The solution can process remote real-time monitoring of the icing situation and carry out different deicing methods according to the actual situation.
Monitoring of conductor galloping and windage yaw change
It can record the actual situation of conductor galloping and detect the windage yaw in real time.
5. Power line repair subsystem
Power line repair personnel allocation
In order to save resource, it needs to equip handheld individual device when repairman works or equip individual suitcase device at the scene of major accidents. With functions of video, talkback, recording, alarm, snapshot, location, cluster call, and multi-party meeting, the devices can transmit the real-time situation of accident scene to the rear personnel for decision making, and the two parties can process real-time communication via the devices to quickly find the accident causes and solutions.
Project repair vehicle surveillance
For the project repair vehicle, install subsystem and equip devices of mobile DVR, camera, keyboard, and car phone to guarantee the real-time video communication.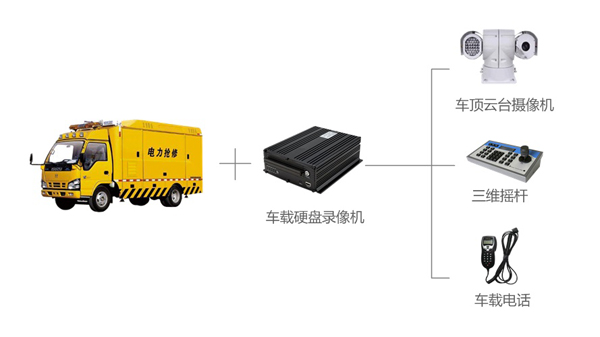 Front-end devices
6. System features
Low cost: only need one-time investment, transmit data via 3G network. Short installation period, convenient maintenance, strong expansion capacity.
Flexible networking: good extensibility, plug and play, administrator can add new wireless surveillance points to the existing network, no need build new network or add devices.
Low maintenance charge: wireless surveillance maintenance is provided by network supplier, plug-and-play device with maintenance-free system.
Strong system reusability: easy to disassemble and assemble, good reusability.
Fast speed: compare with the traditional personnel patrolling, open the surveillance video is ok.
Seeing is believing: the actual situation of accidents can be heard and saw, and the judgment is more correct.
Protocol conforms to the national grid standard: all devices can access national grid platform.