Industry background
The frequent occurrence of natural disaster, terrorist attack and public security incidents in recent years needs the relevant departments making the rapid and correct decisions or disposals. Traditional emergency scheduling is limited by the network and focuses on listening and speaking in short distance. With the rapid development and mature deployment of 3G/4G network, the new generation emergency command communication requires the combination of video and audio.

Adopting digital voice communication, high compression video coding and 3G/4G network transmission control, deploying emergency command terminal in the front end and platform in the command center, the solution realizes the unified coordination and command of all departments and personnel.
Object analysis
Personnel: For the personnel, need to know his location, surrounding conditions, distance to the incident place, and surrounding cooperation unit situation. The command center is required to communicate and give orders in real time.



Vehicle: For the vehicle, need to know its location, surrounding conditions, movement speed, distance to the incident place, arrival time, and surrounding cooperation unit situation. The command center is required to communicate and give orders in real time. The device needs to meet the demands of vehicle working environment for its particularity.



Cooperation among personnel or personnel and vehicle, they can see each other.
Occasion analysis
Natural disaster, flood, fire, mudslide, earthquake, etc.



Emergency, traffic accident, mass incident, escaped criminal pursuit, etc.



Temporary deployment, blasting site, exploration and detection, building site, etc.



Business safeguard, conference, exhibition, guard security, etc.



National defense security, anti-terrorist, drug enforcement, etc.
System architecture
System architecture can be divided into 4 parts according to user demands and design concept: device access, bearer network, service management platform, user application.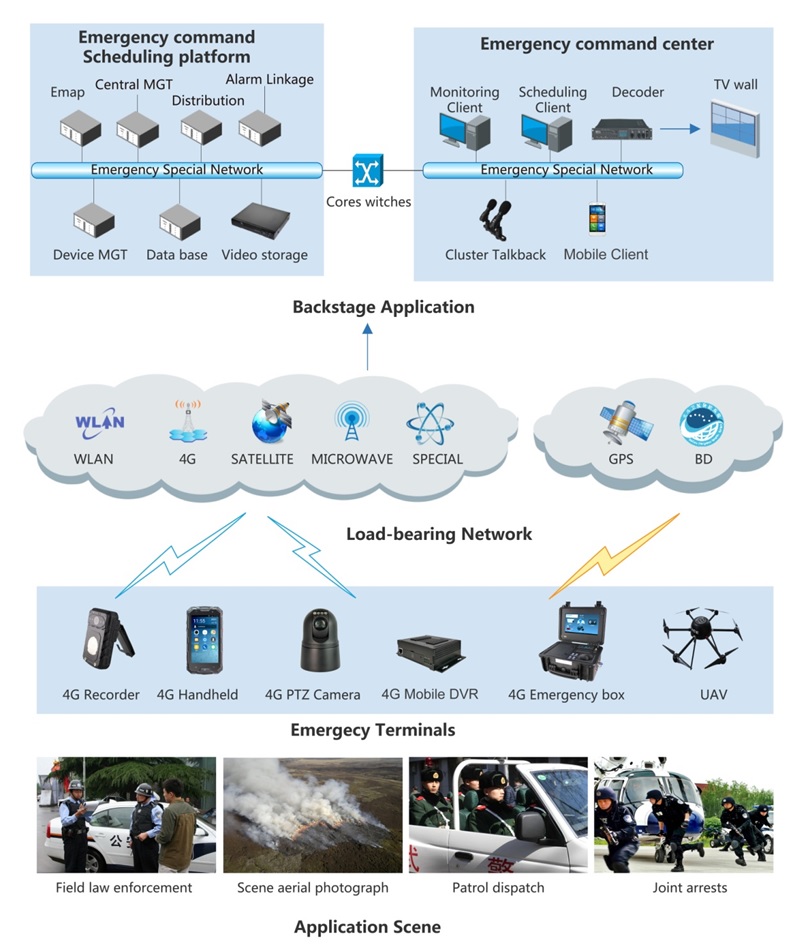 System topological graph
Device access

Accessed devices include: emergency suitcase device, Android individual emergency command terminal, emergency MPU, mobile DVR, and the relevant accessories. Upload the video to the network, and report the situation to the command center.




Bearer network

Bearer network is divided into two parts: operator's network and private network.




Service management platform

The platform is responsible for data receiving and distribution, system management and decision making, user application, scheduling policy establishment, data storage, etc. According to the independent and organic unity principle, it is a full-featured excellent-performance service management platform composed by central management service, stream distribution service, user access service, device access service, storage service, location service, database service, etc.




User application

User application layer includes PC client application, mobile phone client application, dispatching console, large screen display. The specific functions and demands are reflected in user application layer.
System functions
| | |
| --- | --- |
| System functions | Descriptions |
| Monitoring service | 1080P video browsing, 5-megapixel image snapshot, PTZ control, two-way video, video storage, query, download and playback, alarm and linkage |
| Dispatching service | Add / delete temporary group, group discussion, push notification, mute/disable speak/monitor, group recording/ group add, audio/video call, notification push, live chat, compulsory disassemble/plug/pull |
| Location service | GPS/Beidou/base station, 6 maps for selection, map control, map icon information overlay, map and satellite map switch, rapid establishment of group in map |
| Management service | User register/account cancellation/authorization, device management/configuration, system component management, database management, log management, online import and export, network management system |