Ⅰ. Background overview
In recent years, the infrastructure of various countries has been improving day by day, and the construction industry has developed rapidly. With the development of the national economy, the construction industry is facing problems such as a decline in industrial growth and an increase in labor costs, prompting enterprises to become more technologically efficient and informatized.
Most of the work of construction projects is on the construction site. On-site management during the construction phase is very important to the cost, schedule, quality and safety of the project. Traditional construction site management mainly relies on manual management methods, which are labor-intensive, extensive management, and relatively low operating efficiency.
At the same time, informatization management methods are also inappropriate in the construction industry, operating efficiency is low, and there are many problems in supervision, labor, safety, materials, etc., and there is an urgent need for standardized and intelligent management methods.
The Intelligent construction site supervision program makes full use of the latest AI intelligent video technology, Internet of Things sensing technology, wireless transmission technology, and combines with the actual situation of the construction site, to meet the needs of construction enterprises and housing management departments in terms of schedule, personnel, materials, and safety. , supervision and other aspects to create an integrated and standardized construction site management system for the industry.
Ⅱ. Program objectives
1. Overall management: Quickly and accurately obtain the overall situation of construction progress, personnel management, safety management, and organization management of the site.
2. Labor management: Timely grasp on-site personnel attendance, ID verification, job distribution, violation inquiries, population trends, and action trajectories.
3. Safe construction: For special equipment such as tower cranes and cranes that have a huge impact on construction site progress and safety, real-time inspections are carried out through information methods such as positioning, video, audio, and intelligent identification to ensure safe construction.
4. Civilized construction: Real-time supervision of personnel to standardize operations, item stacking, garbage disposal, noise, dust, pollutants and other data to improve construction civilization.
5. Video surveillance: Strengthen the real-time video surveillance at each migration stage of the construction site.
Ⅲ. Solution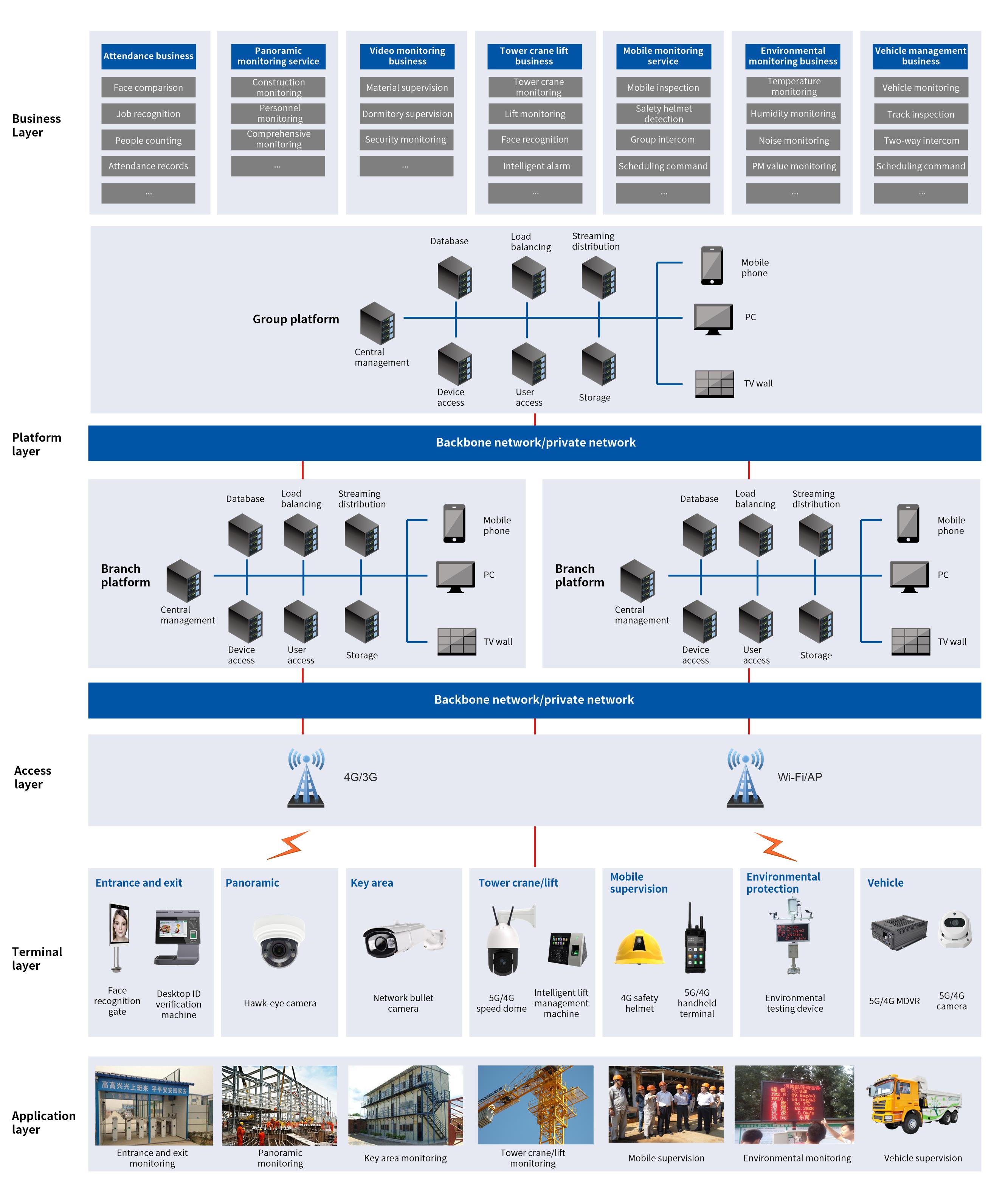 Ⅳ. Feature highlights
1. Big data "a picture"
The system has "a picture" management function. You can use a picture on the group page to understand the information of each branch under the group in real time, and you can enter the secondary layer to understand the "branch table", "site table", and "project" Specific information such as "ranking table", "equipment table", "alarm table", "violation record table" and so on.
2. User management
The system supports hierarchical management of users, the group platform is responsible for managing group users, and the branch platform is responsible for managing branch users and users on their own construction sites. When creating a user, it is clear that the user belongs to the branch or regional company, the labor company to which the user belongs, the corresponding upper-level manager, and the role corresponding to the account (administrator, branch user, labor company user, site supervisor, etc.)
3. Project and progress management
In the initial stage of project construction, controllable elements such as its name, location, start or completion time, person in charge, construction equipment, monitoring equipment, and workers can be set. In the system, real-time understanding of project profile, project progress, personnel trends, violation warnings, environmental quality, and type of work distribution. At the same time, it can also perform real-time browsing, query playback, data statistics and other actions of the project.
4. Personnel management
The platform can conduct unified management of personnel information entering and leaving the construction site (face recognition input; query or modify the number and type of personnel; query entry and exit time; query overtime status, etc.).
5. Subcontractor and type of work management
Support the management of project information, type of personnel, alarm level, ability to receive alarms, and authority to handle alarms of project subcontractors.
6. Equipment management
The platform can perform unified management of all devices used in the system, including viewing device status, adding and deleting devices, modifying, assigning, and issuing.
7. Intelligent supervision
Intelligent safety supervision mainly conducts intelligent management of site safety, including site monitoring, monitoring of personnel entering and exiting the site, and event alarms.