Civil explosives are flammable and explosive materials with a high degree of danger. The safety supervision of civil explosives is very important. Civil explosives are greatly affected by changes in time, space and management personnel in all links of storage, transportation, and use, and it is difficult to supervise their whereabouts.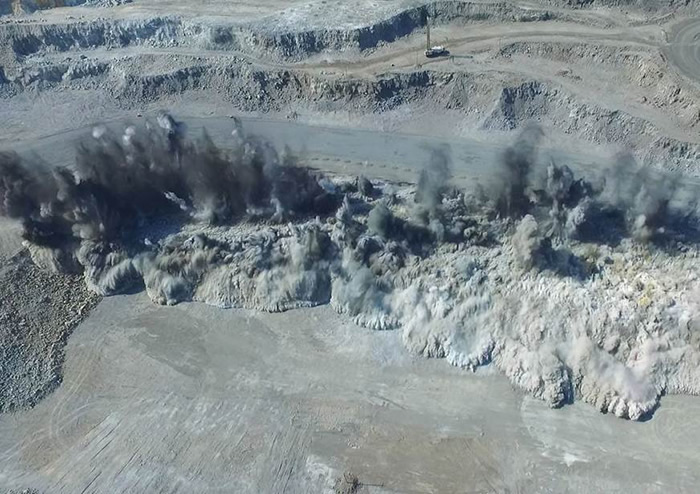 The Tsinglink civil explosion visual supervision solution uses a variety of intelligent equipment to realize the whole process of visual monitoring from the monitoring of the warehouse, the face recognition of the user, the running track of the transportation vehicle, and the operation according to the regulations on the field operation.
1. Program overview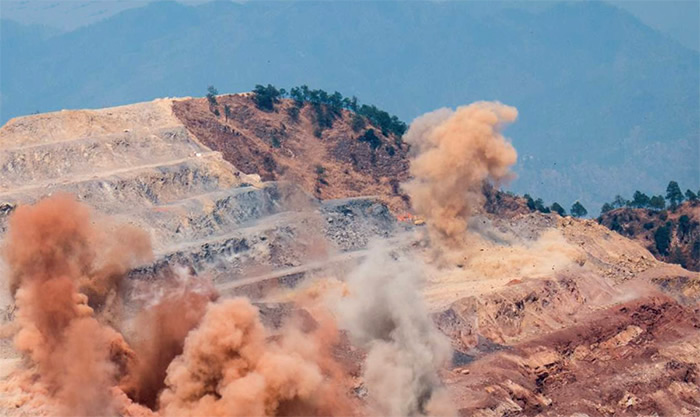 The civil explosion visualized intelligent supervision solution realizes the supervision of the five elements of "people, vehicles, things, events, and environment", which are mainly deployed in accordance with the following links:
(1) Civil explosion storage supervision: HD intelligent cameras are used to monitor explosives and other goods warehouses 24 hours a day, equipped with smoke detectors, temperature and humidity and other sensor auxiliary equipment to eliminate potential safety hazards. For manned warehouses, intelligent on-the-job detection is adopted to prevent personnel from skipping shifts.
(2) Supervision of access to civilian explosions: use face recognition tablets and other products to detect and compare the faces of users to prevent items from being falsely claimed or stolen.
(3) Civil explosion transportation supervision: Install a wireless MDVR system on the transportation vehicle to monitor the driver and the cabin in real time. At the same time, through the Beidou/GPS positioning system, real-time positioning and timely warning of route deviations can effectively prevent the loss or theft of goods, drivers illegal operations etc., and can guide transportation vehicles to follow the set route.
(4) Supervision on the use of civil explosions: real-time monitoring of the blasting scene and full-process video recording. Through intelligent equipment such as hat-type intelligent video terminal and wireless intelligent emergency command suitcase, it supports face detection and recognition, and can detect whether the personnel at the explosion site wears a safety helmet or not etc., realize intelligent applications such as remote roll call, person ID comparison, and replacement alarm to prevent violations operation to ensure the smooth and safe implementation of blasting operations.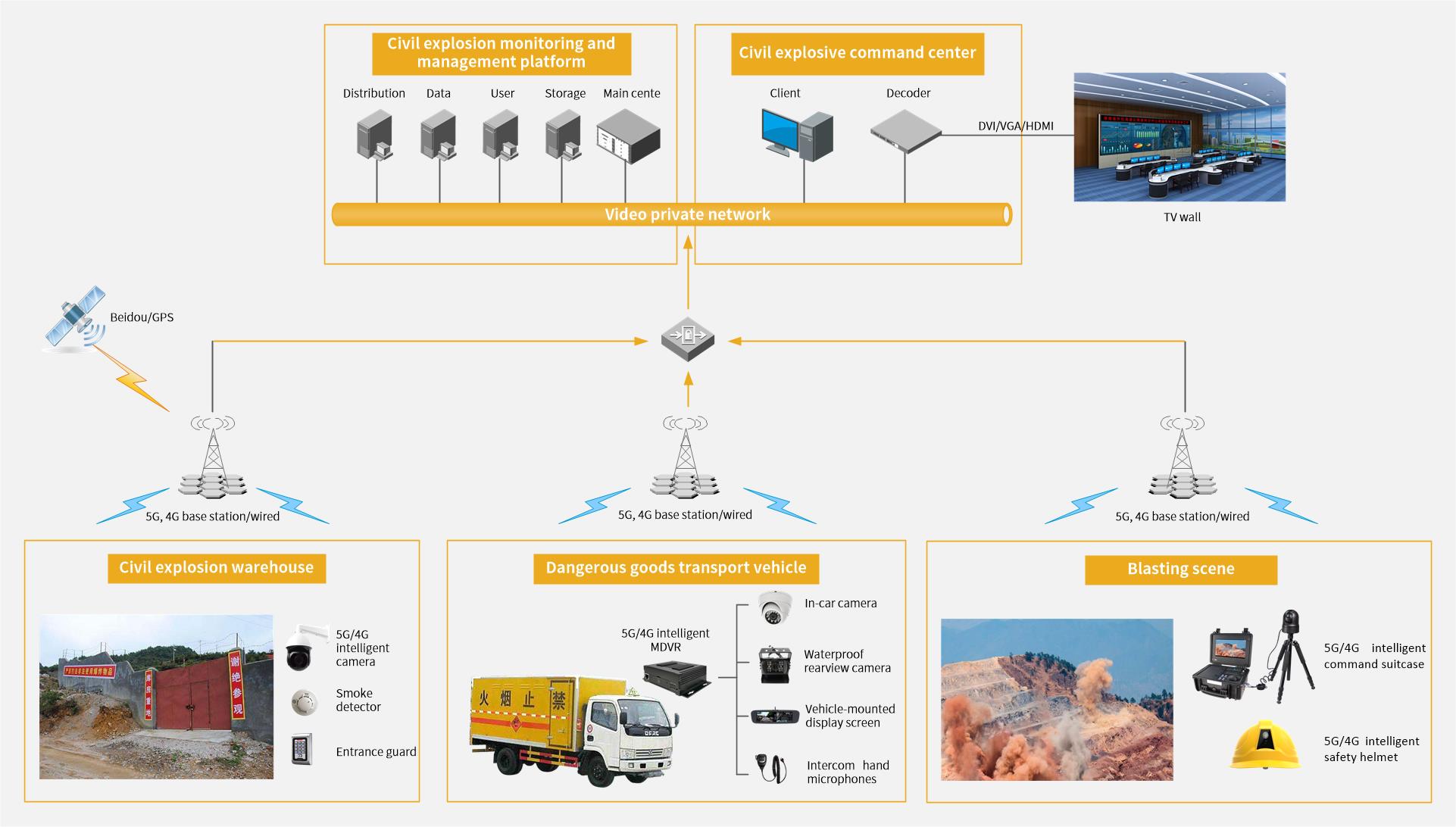 2. Program highlights
(1) Civil explosion storage and access: 7x24 hours monitoring, smoke alarm, temperature and humidity abnormal warning, skipping shift alarm, face recognition, whitelist release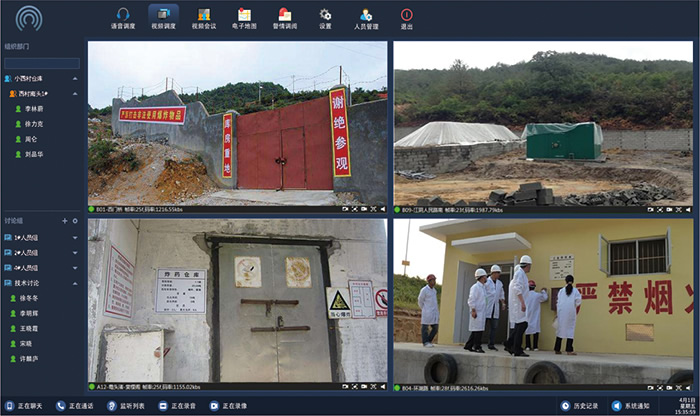 (2) Civil explosion transportation: cab monitoring, cargo monitoring, GPS/Beidou positioning, trajectory tracking and playback, route deviation alarm, abnormal parking alarm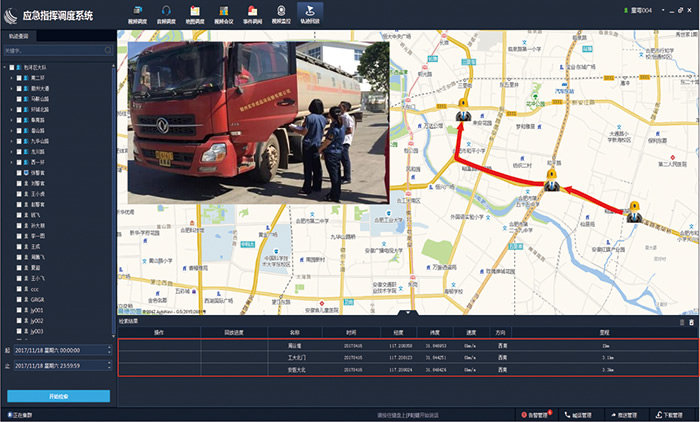 (3) Blasting scene: on-site temporary deployment and control, helmet-type monitoring, person ID comparison, remote roll call, replacement alarm, safety helmet detection