Ⅰ. Background requirements
The period of economic development in many countries is also a period of high risk of contradictions. Sudden incidents, public crises, and mass incidents seriously threaten public safety and the people's lives. The ability to respond to emergencies is one of the important functions for the government.
When emergencies occur, the time, place, and state of affairs are often uncertain. When responding, different departments need to work together to establish a complete emergency prevention and handling plan. In the process of emergency response, rescue and disaster relief, patrolling and maintaining stability, and security of important activities, the emergency command and dispatch system has played an important role in it. It needs to be able to understand the scene situation through all available networks and mobilize all available resources to support the scene, use all means to command the scene.
Ⅱ. Purpose and meaning
The plan combines digital voice communication, high-compression video coding, multi-network integrated transmission technology, emergency command platform, and deploys a variety of emergency command terminals at the front end to form an integrated handling mechanism for human-vehicle linkage, air-ground coverage, normal patrol and emergency response, according to requirements use 3G/4G, private network, WIFI, satellite and other transmission methods to transmit live video back to the command center in real time. It has visual command and dispatch functions such as video scheduling, multi-party video, voice trunking, three-network positioning, video consultation, police handling and reading, etc. The equipment is small in portable size, easy to deploy and operate, and can respond to emergency and unpredictable emergencies. Realize the "unblocked communication, live scene, complete data, and command in place" of modern emergency command.
Ⅲ. Plan deployment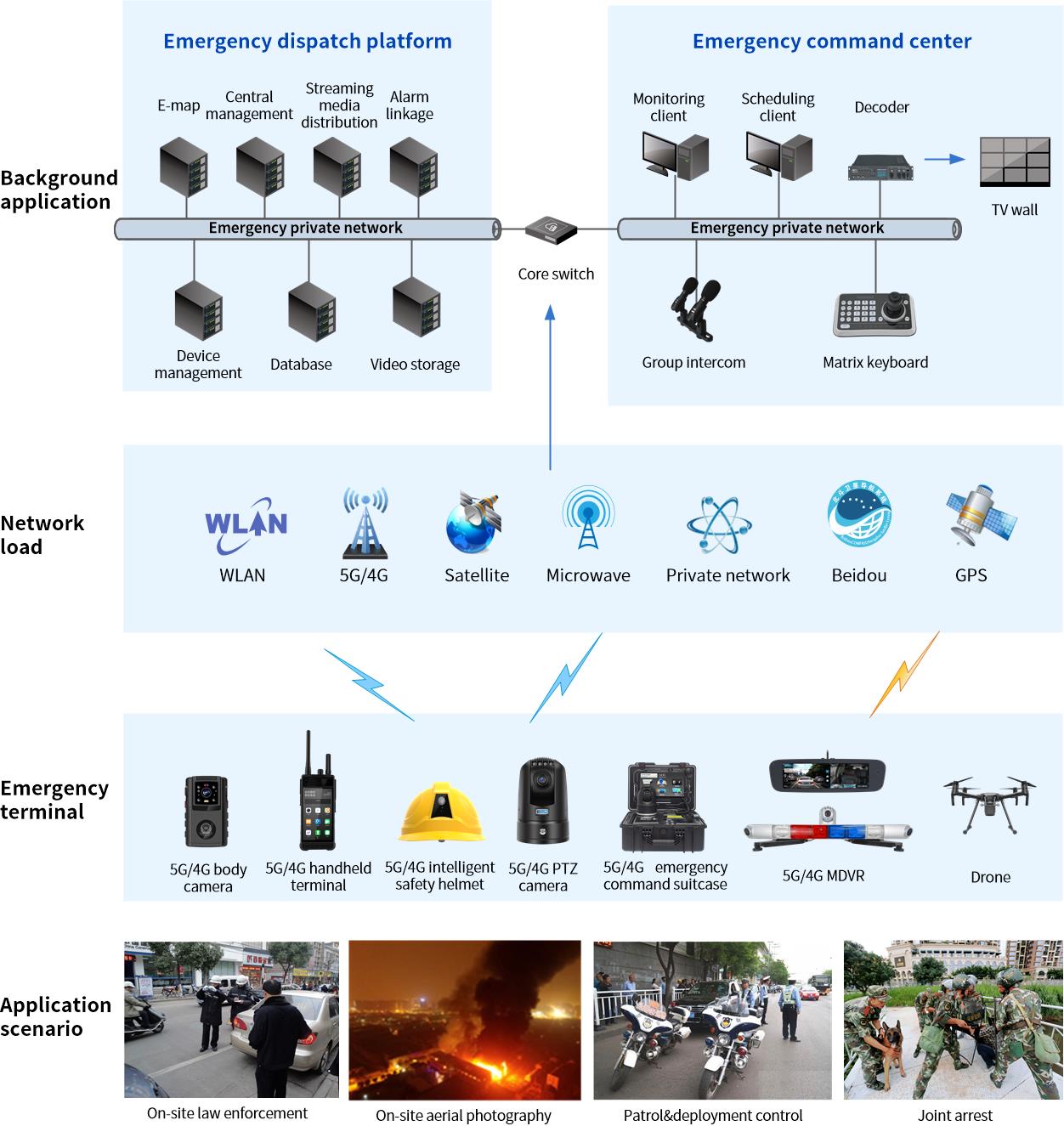 On-site deployment
For small incidents, a single person wears a single-soldier emergency terminal, locates the location of the incident, uploads and reports the real-time situation of the emergency scene, receives instructions from the superior, and quickly handles the scene.
For medium-sized incidents, dispatch emergency response vehicles to the scene, control important intersections and entrances on the scene, arrange for multiple people to carry individual emergency terminals to the scene, form the emergency communication command vehicle and personnel into an on-site handling team, and conduct on-site command and dispatch.
For large-scale or super-large accidents, we will conduct all-round temporary deployment and control of the scene, arrange vehicles to control the entrances and exits of the scene, and arrange drones from the air to support the areas where people and vehicles cannot enter, so as to realize the emergency handling force of human-vehicle linkage and ground-air coverage.
Network deployment
The plan uses a variety of network transmissions to ensure emergency communications for emergency handling:
4G network: adopts 4G full Netcom module, which is fully compatible with the three major operator networks, and selects the best network transmission according to the network conditions.
Private network or self-organizing network: For areas with poor network coverage, deploy a 4G private network to complete wireless network coverage within a range of 5-10 kilometers to ensure emergency communications on site.
Satellite network: In response to possible network congestion and paralysis at the scene of a very large accident, emergency communications are ensured through the satellite network.
Network security: The network transmission security of this program fully supports the "GB/T 35114-2017 Public Security Video Surveillance Network Information Security Technical Requirements" to ensure that the video image transmission in the emergency communication process is not out of control or leaking.
Command center
The command center deploys an emergency command and dispatch platform. Based on audio and video technology, it provides users with emergency team establishment, user clusters, video calls, emergency clusters, video conferences, electronic maps and other emergency services that are tailored to user needs and are close to industry applications. The function, combined with the front-end emergency terminal, forms a fully functional emergency command and dispatch system.
-Group management: personnel management, group management, fixed group, temporary group
-Voice scheduling: call, group call, intercom, conference
-Scheduling control: monitor, mute, force pull into group, force insert
-Video scheduling: video call, video conference
-Emergency communication: document transmission, police warning report, instruction transmission, text communication
-Positioning business: Beidou/GPS/base station positioning, personnel positioning, trajectory tracking/playback, emergency team establishment based on positioning
-Video business: video playback, video storage, video review